I want nothing
BARF Moderator - BARF Sponsor
Barfie Winner 2017 & 2021
Contributor + + + + + + + +
Join Date: Nov 2003
Location: West Sacramento, CA
Motorcycles: 2017 Df3, YZ250F/SM (parting out), DRZ400SM, KTM 450SMR
Name: Steve
SupermotoUSA 2019 - Round 5 - October 12/13 Sonoma
---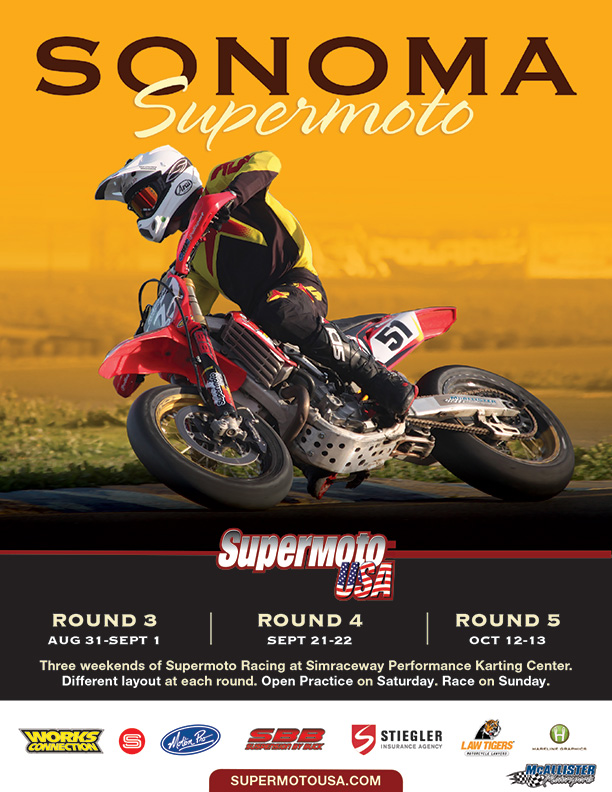 SupermotoUSA's next three races are all at the Simraceway Karting Center at Sonoma Raceway. All have Saturday Open Practice and Sunday racing. Anyone with a motorcycle that will pass tech and meets the track's requirements is welcome for the Open Practice days. No pre-registration required. Sign up and pay at the track.
All three rounds will have use a different track layout. Round five in October is full supermoto with a dirt section.
More info at:
https://supermotousa.com/round-4-aug...sept-1-sonoma/
__________________
Only stickers increase horsepower. Duh.
-mikhail
"Valentino is just a super down-to-earth, right on dude,"
-Brad Baker
BARF Terms of Service
---
Last edited by Map8; 10-07-2019 at

11:41 AM

..