Posted on another forum thread:
A Buyer's Guide to Trials Bikes:
youtu.be/mzcS_OGovCg
Trials Central Forum:
http://www.trialscentral.com/
Trials Links:
http://www.triallinks.com/
Trials & Enduro News:
http://tandenews.com/
Pre-'65 Trials (Ariel HT5)


Trials Bikes A-Z
http://www.advrider.com/forums/showthread.php?t=489179
Many consider air-cooled twin shock vintage trials. Within the vintage trials context, they are capable to compete in. They are well suited for trail and play riding, but due to spare parts availability and collector desirability, the prices tend to be close to a modern used bike. Example: a '70s TL125 range from ~$900-$2500; Early '90's Beta ~$1500-$2000; and a 2005 model $2500-$3500. Prices tend to be significantly higher in the East and West Coast compared to the Mid-West and Rockies.
The most popular vintage trials bikes with a solid parts support network are the Yamaha TY, Honda TL, and possibly the Bultaco Sherpa T or Montesa Cota. Visit:
http://www.bjracing.com/vintrials.html
;
http://amsracing.com/amsracing.com/
or
http://www.smproducts.co.uk/
. The 1965 Bultaco Sherpa revolutionized the sport with the introduction of the 2-stroke; the next major development was the 1970
Honda TL250
Sammy Miller prototype..
These bikes are closely related to the MX and Enduro bikes of the era, and are relatively heavy. According to the August 1986 edition of Cycle; the Honda TRL200 Reflex weighed 231 lbs. (Compoare this with a 2002 GasGas Pro weighs less than 150 lbs.)
youtu.be/VvRRuyoPQhw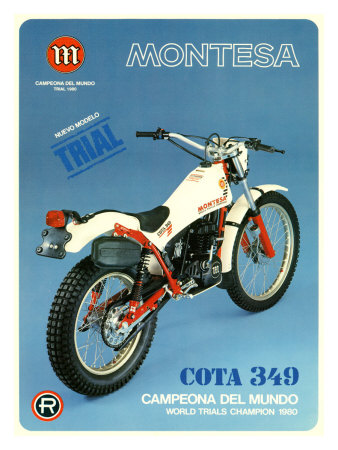 Monoshock models from the 80's and early 90's such as the
Fantic
301/302/303/304/305/307/K-Roo, Aprilia Climber,
Beta
TR32/33/34/35/Zero/Synth/Gara are generally dificult to find parts for as they have an even smaller following than the 70's era trials bikes. They often have drum brakes, cable operated clutches, no reed valves. They feel relatively heavy and often have peaky powerbands.
Notice the evolution where the seat diminishes from the '70; and is non-existent in the '90s models. The older heavier models are more suited to trail/play riding.
Unfortunately vintage trials bikes often cost as much or more than used 'modern' trials bikes. Let's define modern... liquid cooled, disc brakes, reed intake or 4-stroke, mono-shock.
Many new riders make the mistake of selecting a 270 or 290 as a first bike - that's a lot of bike for a novice: the 270/290 spin up and hit hard to suit expert riders clearing 8' obstacles. Surpisingly the torquey 300 spools up slower, and has a very linear powerband. These 'big-bore' engines with high-compression and low exhaust port height can be a challenge to kickstart. Experienced riders consider a 200 as an ideal first bike, which is relatively easy to start. The only current model offered is the Beta Evo 200. The Sherco ST 2.0 was made from 1999-2009.
We're fortunate to own a GasGas TXT Pro (Discontinued after 2006). 200 are in high demand and fetch a premium price. The 125 is a youth model and a great way to start: but hard to find and demand top price. Although a 200 weighs almost the same as a 125, the 125 feels lighter to ride... flywheel effect? A 225cc overbore kit for 125cc bikes is available.
Modern trials bikes:
The sub-150 lbs, modern trials bike emerged in 2002 -
GasGas
, Spain has the largest market share and parts availability. I've heard that GasGas with 60%-80% market share, sells more trials bikes than the other 5 manufacturers combined. The current TXT Pro (TXII) model was introduced in 2002. The prior model TXT has roots in the
Jordi Tarres
developed the 1994 to 2004 JT/JTR/JTX/TX/TXT/'Edition' model lineage. The engine, chassis, and suspension components were essentially unchanged over the 10-year production. Changes were incremental but not revolutionary: plastics, fueltank, subframe/airbox, wheel hubs, and front brake calipers. The engine was also used in the GasGas Pampera and is the foundation of GasGas EnduroCross models.
The older, heavier engine design, adopted by Sherco, is bullet-proof. For this reason I own a 167.6 lbs. (Dry Weight) JT35 which is well suited for trail riding.
note similarity to GasGas Pampera MKI
Introduced in 2002, the GasGas Pro revolutionized engine design by shaving 17 lbs. from the motor and bringing modern trials bike to the sub 150 lbs. era. The Pro engine uses a diaphragm clutch similar to automobiles to reduce weight. The GasGas 'FOur-Six transmission' is a innovative design using 4-gears to provide 6 gear ratios; with 1st-4th close ratio for trials and 5th/6th wide-ratio for trail riding.
youtu.be/8lMemyyyhVE
Other manufacturers achieve weight reduction in chassis and engine materials.The 2003 Pro motor changed from aluminium cases to magnesium for a further 1.7 lbs. weight saving.
GasGas used a color scheme to identify the different models up to 2006: Yellow 125cc/160cc/200cc Red 250c/280cc Blue 300cc. In 2002-2004 GasGas offered the "Edition" model which was the older TXT design and the TXT Pro.
The first year (2002) release of the GasGas Pro engine had reliability issues in the new diaphragm clutch. These issues were addressed by 2004, but some still regard GasGas as less reliable than other manufacturers. A 2004 magnesium clutch cover upgrade with a design to improve cooling and clutch slave cylinder stroke was increased. The clutch cover upgrade is available for 2002 models. I believe the current quality is close between the 6 current manufacturers.
Top of the line models use the Keihin PWK28 rather than the Dellorto PHBL 26.
Chassis: In 2006 GasGas converted from the chromed oval steel frame to 2007/2008 black oval frames to reduce cost, 2009 to present models use round tube CrMo frames to further reduce manufacturing cost. Some look for the 2002 GasGas frame with a steeper head rake. The 2003 onward frame geometry between the Chrome or Black Oval tube frame, and the current round tube frame (Red, Gold, or Black) remained the same. I don't believe there was a deterioration in strength or durability with the GasGas chassis changes from 1991-2013. In 2010 GasGas followed Sherco's 2009 lead and offered a TXT280 Eco model that uses the 2008 black frame and a tube-type rear rim. Most trials rear tires are tubeless to run at 3-4 psi. Front tires still use tubes at 6-7 psi.
youtu.be/dw_0HKdfuyg
2013 Adam Raga Replica
Beta
, Italy has a reputation of a quality build and promotes the aluminium frame. Current Beta's have roots in 7-time WTC Champion
Dougie Lampkin
development of the aluminium framed Beta Techno.
The 1994-1999 Beta Techno was criticized for weak rear brake. Early model magnesium engine cases were prone to corrosion which resulted in coolant mixing with transmission oil. Front feels heavy compared to modern bikes: it's a 177 lbs bike!
The Rev3 had some early issues with the stator. The carburetor is notorious for dripping fuel when on the sidestand for prolonged periods. GasGas and Sherco use the same Keihin PWK28 but don't have the same issue. Beta offers Rev4 4-stroke models 250 & 300. I personally do not like the Beta Left side kickstart. Beta turn tighter than a GasGas.
Beta has a factory Rev3/Rev4/Evo 'Long ride seat/tank' for those who intend to trail ride rather than compete in trials.
Unfortunately the US Beta Importer has changed 3 times, with each new entity not purchasing the previous spares inventory. Therefore parts for the older bikes (1994-1999 Techno), tend to be difficult to source.
Sherco
of France & Spain are well known for reliability. The motors are similar in design to the TXT motor which reflects in the weight, and slower reving character. Being a much smaller company, Sherco tends to lag a bit behind GasGas and Beta in development and is criticized as being 'heavier' (Dry Weight: 153.2 lbs.). Both GasGas and Sherco use CrMo frames. Sherco is imported by 6-time US National Champion
Ryan Young
. Sherco has a tighter steering lock than GasGas, but I wish it wasn't a 5-speed.
2007 Cabestany Replica
As far as suspension: Most models over the past 20 years ran a 38mm Paioli RSD front fork with spring preload on one fork, and rebound dampening on the opposite fork. In 2004 GasGas switched to Marzocchi 40mm in the Pro model (also used by Ossa, Jotagas) which provided compression dampening in one fork, and rebound in the opposite fork, but Beta and Scorpa retained the older Paioli RSU 38mm. 2007+ Marzocchi are (black) aluminium tubes for a 2 lbs. weight reduction. Montesa uses Showa components. Rear shocks: Sachs and Paioli are usually rebound dampening only. Upgrades are availabe from Reiger, Ohlins, R16V. GasGas (2012), Jotagas, and Sherco have adopted the
Formula 'Tech' Factory 39mm
(5 Kg.) fork for the newest models.
The key developments over the past 20 years that differentiate modern trials bikes from their ancestors:
1. Hydraulic Disc brakes (4-piston front, 2 piston rear) - AJP (Braktec), Formula (Sherco) GasGas used Formula in 2012 but returned to AJP in 2013.
2. Hydraulic clutch - AJP, Formula
3. Case reed valve intake - often modified with Moto Tassinari or Boyesen reeds
4. Liquid cooled
5. Tubless Radial tires (lighter)
6. Adjustable suspension
other developments: interchangeable cylinder head inserts, dual ignition maps, Michelin X Light tires, Ducati ignition/stators changed to more reliable Kokusan, synthetic pre-mix to run 80:1 or 100:1 ratios.
Some things that didn't work: USD forks (heavier, and tend to leak), Magnesium cases (corossion), Titanium fastener kits (to shave another 7 lbs. - none were ever sold by GasGas USA), Beta used a no linkage rear suspension from 2000-2008 on the Rev3/Rev4 - similar to KTM PDS. Although providing weight savings, Beta returned to linkage rear suspension on the Evo.
Scorpa
, France- declared bankruptcy in 2009. Yamaha supplied engines from 1998 sourced from the Yamaha TYZ. I haven't accepted the Scorpa fuel tank styling.
1991-1996 Yamaha TYZ250
Ossa
, Spain - reentered the market in 2010 with the introduction of EFI 'reverse engine' (similar to Cannondale E440) and a 'casette' gearbox.
LewisportUSA
is the US importer. As expected the first year had EFI mapping issues which I've been told have been sorted out. The Ossa 280i only weighs
144 lbs
.
Jotagas
, Spain - Founded by Jordi Tarres in 2009. Uses a unique rear suspension design coupled with Ohlins shock and Marzocchi forks.
LewisportUSA
is the US importer.
Montesa
- Spanish subsidiary owned by HRC (Honda). Honda reliability. The
Cota 315R
(249cc) was offered 1997-2004, and the 4-stroke 4RT was introduced in 2005 reflecting Hondas departure from 2-stroke technology and promoted by 6-time WTC champion
Toni Bou
. 315R may suffer from clutch drag; and at a Dry Weight of 160.9 lbs. are heavier (particularly the 1997-2000) than the modern trials bikes. Adding a bit of ignition advance is a recommended mod. Clean models are highly sought after and command a premium price. Only slight changes over the model years. Montesa is not imported to the US due to a conflict with American Honda Motor Corp. Parts are available from
LewisportUSA
.
315R
youtu.be/aO_9wU3t62A
4RT
Given a novice and intermediate riders capability: the rider won't be able to appreciate much difference between any 2004 or newer trials model. Best to purchase what you can afford, and Practice, Practice, Practice.
CAVEAT EMPTOR:
Some of the modern bikes in California were brought in from out -of-state and never registered in the DMV. If you don't have a title or bill of sale and MSO you may have difficulty getting registered (green or red sticker). Since thees bikes were originally manufactured to be street legal in Europe; but US DOT required removal of lighting equipment; if you have a Green Sticker and the 8th digit in the VIN is not a '3' or a 'C' there's a probability you can get CA street license plates.